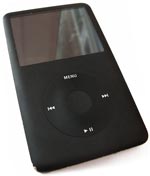 For the last few months I and a few iFlash users have been playing around with Apple's new incarnation of the iPod – the 6g Classic, with its fancy new operating system and slimmer profile – we wanted to see if the iFlash would work and if Apple still left the back door open for the Compact Flash conversion of their headline media player.
If you are reading this looking at your recently deceased iPod Classic which you dropped and broke the hard drive on, well I have some good news the iFlash works and works very well.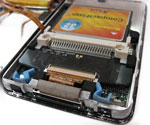 It's not all good news. Physically the fit is perfect – the iFlash mk2 with its slimmer design is just the right thickness to go in to the slimmer design of the Classic (80gb model). Not worth mentioning the 160Gb model here as that has plenty of room any way….
The iPod works so much better with solid state storage, the cover flow album art feature is smoother with no waiting for the hard drive to spin up – plus the benefit of having another 30-40% of battery life added to the already excellent run times is just great.
Bad news obviously is that CF cards have not climbed in capacity as hoped for. If you exclude the vaporware announced by Pretec and Microdia – 32Gb is still the maximum you can buy in the shops.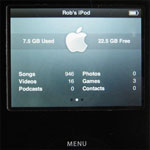 Thankfully the pricing is getting very attractive with the 32Gb A-Data approaching $100 (£50), and the other makes following suite.
Various testing has demonstrated so far that if the CF card works with the iFlash in a iPod Video (5g) then it will probably work in the iPod Classic (6g).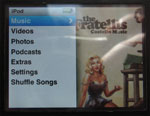 I'd like to thank Rob Hardwick and Greg Upton for putting their Classic's forward for testing!!!
(All photographs courtesy of Rob Hardwick©, used with permission)